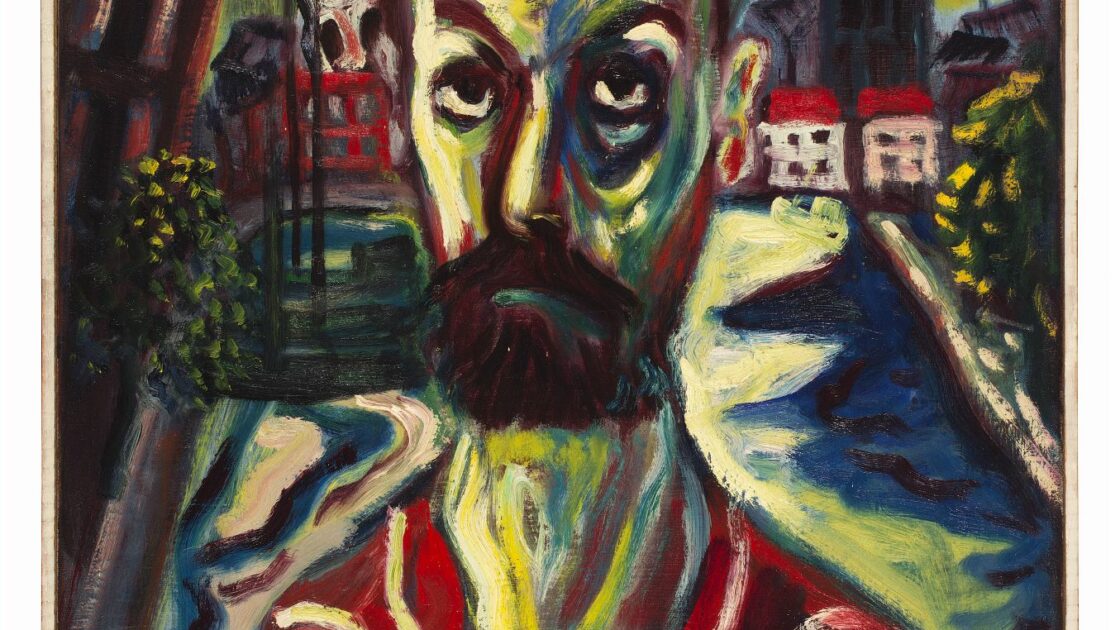 Aad de Haas – In the Spirit of Resistance
23.11.2021 – 06.03.2022
The striking, non-conformist Limburg artist with Rotterdam roots, Aad de Haas (Rotterdam, 1920 – Schaesberg, 1972) would have turned 100 in 2020. That is why SCHUNCK Museum Heerlen, Limburgs Museum Venlo and Chabot Museum Rotterdam are organising a relay of exhibitions illuminating Aad de Haas' art from different perspectives. 'In the spirit of resistance' concludes the relay. This exhibition focuses on Aad de Haas' younger years in Rotterdam; his first years as an indepentent artist after finishing art school and the art works that he made during the German occupation.
Non-conformist
De Haas worked with a unique visual language which he firmly refused to adapt to the norms and values of church and state. It lead to a conflict with the Germans during the Second World War, who in 1943 confiscated his artwork and imprisoned him in the Rotterdam police prison Haagse Veer. Here he created statuettes and drawings with material that had been smuggled in. Few of these works have survived.
After five months he was released through mediation, albeit with a professional ban. He had to re-train as a metalworker and would be placed in a German factory. De Haas and his wife Nel, however, escaped to South-Limburg, where they went into hiding. In January 1950 De Haas was awarded the first Gerrit van der Veen-award of Stichting Kunstenaarsverzet 1940 – 1945 Foundation (Foundation Artists'resistance 1940 – 1945) by Stedelijk Museum director Willem Sandberg.
Discovery
Art dealer Leen van Zanten can be considered the discoverer of Aad de Haas. In 1942 he became acquainted with De Haas, who was 21 at the time. In 1943 the first exhibition of 49 paintings took place at Art Room Van Zanten, Eendrachtsweg, Rotterdam. His work was praised abundantly: a 'surprising' and 'interesting debut', 'an outburst of young talent with all the joyful delight accompanying that'. Aad de Haas' dream world attracted particular attention.
In September 1943 a second exhibition was held, this time featuring graphic work. The colourful paintings in the May exhibition had taken visitors into a dream world, but the graphic work was of a quite different order. The difference was noticed not only by art critics but also by the German Sicherheitsdienst: the entire exhibition was confiscated and all art works were seized from De Haas' studio. De Haas' art was declared 'degenerate', Van Zanten and De Haas, neither of them registered with the Kultuurkamer (Culture chamber), were taken prisoner.
Reconstruction
Chabot Museum shows a reconstruction of the exhibition that was confiscated by the Germans in September 1943 at Art Room Van Zanten – with reactions from the Dutch Press and the German Sicherheitsdienst. Also on display are drawings and statuettes which De Haas made in the Rotterdam prison, and larger, more expressionistic post-war paintings, featuring memories of the war period, like Brand in de Leuvehaven ( (Fire in the Leuvehaven) (1954).
'In the Spirit of Resistance'has been realised in close cooperation with Schunck Museum, Heerlen, the heirs Aad de Haas and a large number of (private) lenders, on the basis of archive research by Gerrit Pas and Hentyk van Hugten.
Chabot Museum Rotterdam
Chabot Museum for International Expressionism is housed in an icon of Het Nieuwe Bouwen (Dutch Modernist architecture), located in the vibrant Rotterdam Museumpark (a stone's throw away from Eendrachtsweg, where Van Zanten's Art dealership was based). Here one can experience art in the light open spaces in one of Rotterdam's finest villas, surrounded by the monumental art work by Henk Chabot (1894 – 1949), his contemporaries and present-day kindred spirits. An intimate world-class experience of art.
Picture above: Aad de Haas (1920-1972), Zelfportret (Self-portrait), 1954, oil on canvas, 80 x 60 cm, collection Bonnefanten ©Aad de Haas, picture Limburgs Museum / Bonnefanten